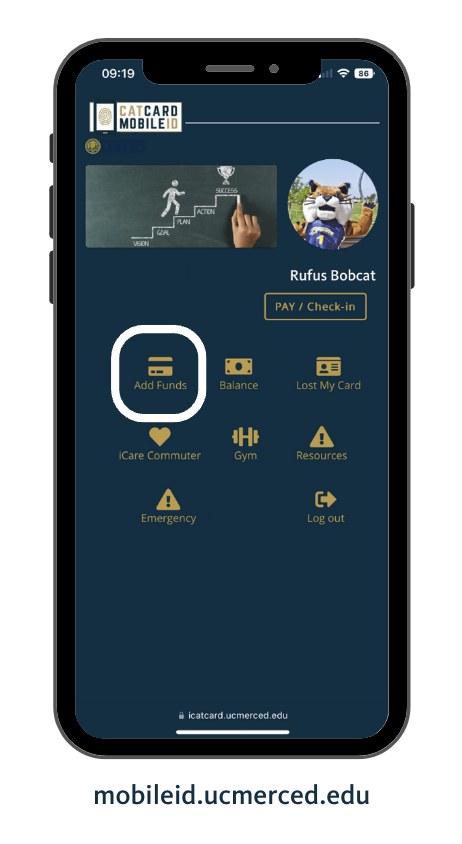 CatDollars is a free debit card program that is available to students, staff, and faculty of UC Merced.  The program is administered by the CatCard Office and enables you to conveniently make purchases throughout campus.
Sign-up for CatCard MobileID for convenience
You can use MobileID as a companion app that allows you to pay for your meal and merchandise at selected dining locations across campus, add funds to your Cat Dollars, check your plan balances and recent transactions, deactivate lost/stolen CatCard, use it as a form of identification to ride CatTracks, and donate and request into iCare using your smart device. This new functionality will provide accessing campus card services more convenient. For more information and to sign-up for MobileID, visit catcard.ucmerced.edu/MobileID.
Making a deposit
Simply deposit money into your Cat Dollars Account and with the swipe of your card, the exact amount of your on-campus purchase is deducted from your balance. It's secure, safe, fast, and convenient to use.
Adding Money to Your CatCard account
There are four different ways to add money to your Cat Dollars account:
Visit the cashier's office and make a deposit via cash, money order, or check.
Use the ValuePort terminals (similar to an ATM) located on the second floor of the Kolligian Library near the helpdesk, in Valley Terraces near the laundry room, and in the front office of Sierra Terraces.
Mail payment to the cashier's office.
Use MobileID or go directly online at mybill.ucmerced.edu under the "Make a Payment" page.
When you add money to your card, it is reflected in your account balance immediately.
Check and View Your Balance or Transactions
Fees
There is never a transaction fee, even if you make dozens of purchases a day. Your money is transferable from one academic year to the next, and if you close your account the balance of your money is refundable, excluding a $5 dollar administration fee.
Cat Dollars Locations
Campus Store — Purchase textbooks, school supplies, sundries, and collegiate paraphernalia.
Pavilion, Yablokoff-Wallace Dining Center, Lantern Cafe, Pavillion, and all the Food Trucks — Enjoy the convenience of eating on campus without a meal plan.
Residence Hall Laundry Facilities — As a student, you don't need to scrounge for quarters on laundry day, just swipe your CatCard.
Library and Computer Labs - You can print, scan and make copies with just a swipe of your CatCard.