CatCard Online Photo or Selfie Submission
If you are a new UC Merced incoming first-year, transfer, graduate student, or employee/staff/affiliate, you are eligible and encouraged to submit your photo electronically for your official UC Merced CatCard identification card. A digital photo submission gives you the opportunity to obtain your CatCard faster during your scheduled orientation or when you are on-campus. All UC Merced students and staff are required to have a photo identification card.
IT'S EASY AS 1, 2, 3!
We accept the following selfie submissions: 
   Take a photo using your mobile device or webcam.
   Upload the photo from your mobile device or mobile device.
 SELFIE CHECKLIST 
Make sure you pass our selfie regulations:
   Are you identifiable in the selfie?
            It's your selfie after all!
  Are you looking straight at the camera?
             Side profile selfies were so 2009.
 Please be mindful and properly crop your photo (samples below).
 
 Portrait-orientated photos work best. Social media photos are not accepted.
  Is your background light, neutral color?
           The fountain is pretty, but it'd look better as your Facebook cover photo.
  Is your selfie in color?
          Sorry, no black-and-white…or even black-and-gold permitted.
  Are you free from red-eye or reflections?
          Save the flash for the paparazzi.
  Did you take off your glasses, hat, or any garment that obstructs your face?
           We know California can be sunny, but we want to see you clearly!
  Is it a photo of just yourself?
          No photos with Pounce or group selfies, please!
Once you find the photo that you like, upload the photo.  Please allow 1-2 business days for processing. You will receive an e-mail once the review process is complete.
 GOOD SELFIES 

If the photo is approved, no further action is needed.
 BAD SELFIES 

If the photo is rejected, you will be required to submit a new photo.
 ARE YOU READY? 
Fix your hair, set your lights, and
smile for the camera with Bobcat Pride!
Click the CatiClick image below to upload your photo or selfie!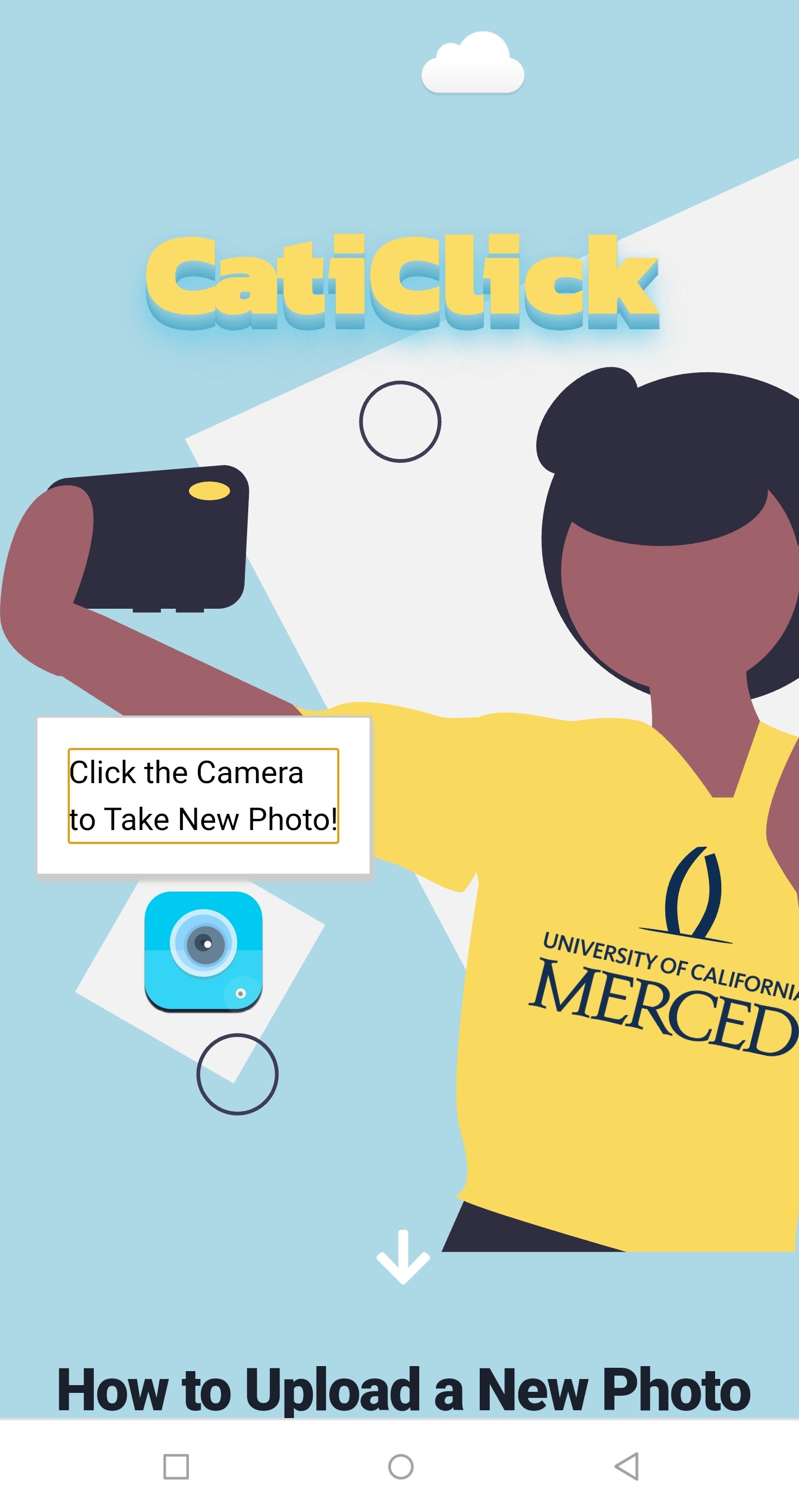 Note: UCMNetID is required to log in.
Welcome to the University of California, Merced!
If you are new to the University of California, Merced, you must submit a photo online for your first CatCard ID.
Before you submit your photo, please read the information provided above.
To submit a photo, you must a valid UCMNetid to login into the secure site to submit your ID photo, and upload a valid Government Issued ID or High School student ID for verification. You will be prompted to enter your login credentials. Follow the instruction carefully.
If you have any questions or concerns, please email us at catcard@ucmerced.edu.